December 29th The Feast of the Holy Family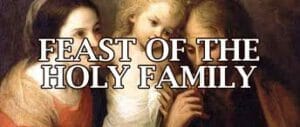 On 29th December we shall observe the Feast of the Holy Family with a special Mass that will end with Benediction of the Blessed Sacrament at The Crib.
The Hebrew word for Bethlehem is two words – beth (house of) and lehem (bread.) Thus Bethlehem literally means 'House of Bread." Jesus was born in the "house of bread" – how fitting that He called Himself the bread of life!
Jesus said to them, "I am the bread of life; whoever comes to me shall not hunger, and whoever believes in me shall never thirst." John 6:35
At the end of Mass, we all gather at the Crib to place the Monstrance containing the Blessed Sacrament into the Crib for a time of quiet prayer.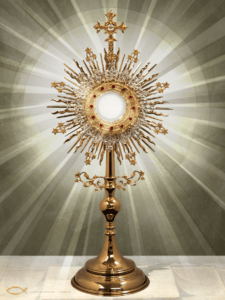 Fr Paul will take his Post Christmas break from after Mass on Sunday 29th December until Saturday January 4th. This will mean that there will be no midweek Masses or Daily Office, other than New Year's Day special Mass at Noon.
Special Thanks! Fr Paul and the Churchwardens wish to thank all who made our Christmas worship so memorable.  We  thank Nick & Angela for the wonderful Christmas tree donated to the Church. Thanks also to Sylvia and her team of flower ladies and gentleman for the decoration and greening of the Church. We also thank Gordon Young for the construction of the new Crib, complete with lighting. To Maureen and Carly and team for the wonderful refreshments at the Carol service but also every Sunday of the year.
Fr Paul also wishes to thank Steve Ansell and the choir for some stunning Christmas music, and the sheer commitment of the choir in singing so many services. A huge thanks also to the altar servers and sacristans who make the liturgy happen!  Thank you all and well done!
Our 2020 Confirmation Course will begin on Friday January 17th at The Rectory from 3pm – 4pm and repeated for those who cannot make that date on Saturdays at 11am – Noon. The course will run from January 17th until March 14th initially.
New Year's Day. The Feast of Mary, Mother of God. Mass at Noon. Why not begin the New Year with worship!
Sunday January 6th is The Feast of the Epiphany. Solemn Mass and Blessing of Chalk at 9:30am.
Sunday January 12th is The Feast of the Baptism of Jesus. Mass at 9:30am with Holy Baptism of Alina and Edie Carr and the renewal of our own Baptismal Vows.