A Virtual Day Pilgrimage to The Shrine of Our Lady of Walsingham. May 6th. Live Mass streamed at 5:00pm
Fr Paul and Maggie invite you to join us today on a virtual Pilgrimage to The Shrine of Our Lady in Walsingham. To make your pilgrimage real, simply set some time aside today to read the article below and enjoy the pictures on this page , this will allow you to feel you are there in person.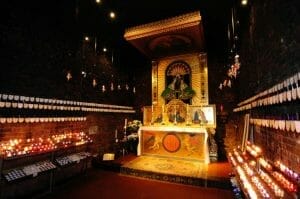 At 5:00PM (UK time) Mass of Our Lady of Walsingham will be live streamed from the Rectory Oratory. Please join us.
Perhaps there are a great many members of our congregation at Holy Trinity who have never been to Walsingham. Maybe, you have never even heard of Walsingham!
Why not join us today in a virtual pilgrimage to that Holy Place deep in North Norfolk. Walsingham has been a place of pilgrimage, prayer, healing and renewal since 1061 when the Lady of the Manor had a vision of the Mother of Jesus.
Pilgrimage is an essential part of life and living. Christians see life itself in terms of a journey, coming from God and returning to God. This is true of other world religions where pilgrimage is also important.
A pilgrimage is a symbol in action. It represents the journey of the Christian life from earth to heaven. The Church is sometimes described as a pilgrim people.
Back in the Middle Ages pilgrimages were very popular. It was not like going on holiday. Pilgrimages often took years. Journeys were long and dangerous and many died en route. They usually travelled in groups and would stay in monasteries or hostels on the way.
Pilgrims undertook these journeys to holy places because it was important for their faith. If they had committed sins they believed that by going on a pilgrimage they could show God how sorry they were. Sometimes they were sent on such journeys by a priest as a penance. Sometimes they went for healing of a physical condition.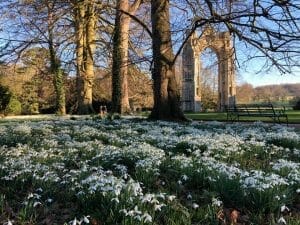 The Walsingham Story
In 1061, in the reign of Edward the Confessor, the widow of the lord of the manor of Walsingham Parva, called Richeldis, had a vision of the Virgin Mary. Mary took Richeldis in spirit to Nazareth to show the place where the Angel Gabriel had appeared to her. Richeldis was told to take note of the measurements of the Holy House and build a copy of it in Walsingham. Richeldis saw the vision three times.
Carpenters were instructed to build the house but where? During the night there was a heavy fall of dew but in one meadow two spaces of equal size remained dry. Richeldis took this as a sign and chose the plot close behind a pair of twin wells.
The workmen tried to build there but found themselves unable to do so. They gave up in despair and consulted Richeldis. She spent all night in prayer. The next morning a miracle was discovered. The chapel was found fully completed and standing on the other dry spot. It was concluded that Our Lady had removed the Holy House to the place she herself had chosen. This is the Walsingham legend.
The Early Years
Since then Walsingham has been venerated as one of the holiest places in England, and countless people have visited the village to ask Mary to pray to Jesus on their behalf. By the late Middle Ages, it was held to be the duty of every Englishman that at some time during his life he should visit Our Lady at Walsingham.
Little is known about the earliest pilgrims, although they carried back the word that their prayers had been answered following their visits to the Holy House, and their illnesses healed by drinking the water from the wells. News gradually spread out of Norfolk and reached the ears of the royal court at Greenwich.
King Henry III made his first of many pilgrimages to Walsingham around 1226. He was a great supporter of The Virgin Mary and the Holy House at Walsingham became one of the centres of his devotion. He generously gave the Canons his royal patronage.
Following his example nearly all the Kings and Queens of England, up to and including King Henry VIII and Queen Katherine of Aragon, came on pilgrimage to the Holy House, until the Dissolution of the Priory in 1538.
By the 14th and 15th centuries Walsingham and Canterbury were the two premier places of pilgrimage in England, with Walsingham slightly the more important of the two, as this was a shrine to Our Lady whereas Canterbury was a shrine to St. Thomas Becket.
In the later Middle Ages, there were so many people wanting to make pilgrimages to various places that the Church had to regulate the practice so families and work were not neglected. A pilgrim had to have permission from his Bishop before setting out and had to put his affairs in order, often making a will, repaying outstanding debts and providing for his family in his absence.
Pilgrims would assemble in their parish church to dress in the distinctive pilgrim habit and be blessed by the priest. Pilgrims typically wore a long grey gown with a cowl and a broad hat, and carried a staff, a scrip and a bottle.
Pilgrims travelled to religious sites all over England and routes were well established to help them on their journey. Routes were marked by religious houses or wayside chapels to aid the pilgrims with their spiritual and temporal needs. Monasteries and hospices also offered hospitality.
Travelling was very hazardous with miles of open or forested countryside, poor tracks, outlaws and wild animals like wolves and boar, so pilgrims were encouraged to travel in groups.
There really is no risk today, just sit comfortably in your chair, switch on your computer and enjoy.
It is a strange phenomenon of our own time that pilgrimage should again have become popular. Thousands of visitors come to Walsingham each year.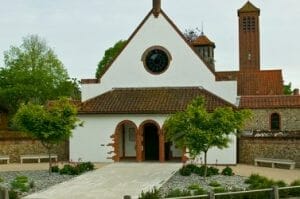 The particular emphasis of pilgrimage to Walsingham is concerned with the Incarnation of Jesus – this is the belief central to the Christian faith that at a definite date in history, in a certain place, God himself was born of a woman into a human family.
The Holy House is a reminder of Nazareth, of the house in which Jesus lived as a child and young man. By visiting it and praying within it, pilgrims believe that they are identifying with those influences which were formative as Jesus grew through childhood to adolescence and adulthood.
The Prayer of Our Lady of Walsingham.
O Mary, recall the solemn moment when Jesus, your divine son, dying on the cross, confided us to your maternal care. You are our mother, we desire ever to remain your devout children. let us therefore feel the effects of your powerful intercession with Jesus Christ. make your name again glorious in the shrine once renowned throughout England by your visits, favours, and many miracles.
Pray, O holy mother of God, for the conversion of England, restoration of the sick, consolation for the afflicted, repentance of sinners, peace to the departed.
O blessed Mary, mother of God, our Lady of Walsingham, intercede for us.
Amen.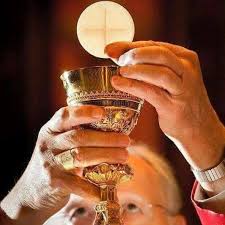 We hope to see you on line at 5:00PM for our Pilgrimage Mass.
Fr Paul