Prayer Diary for the Novena of Prayer – Thy Kingdom Come.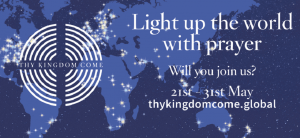 From Fr Paul,
Below are the prayer intentions for each day of the Novena of Prayer (Novena simply means Nine Days of Prayer) called "Thy Kingdom Come". Please try and give some time to each of these short and simple devotions if you can.
"Prayer is not asking. Prayer is putting oneself in the hands of God, at His disposition, and listening to His voice in the depth of our hearts." – Mother Teresa
Prayer Intentions for "Thy Kingdom Come" which begins tomorrow May 21st.
Pray as you normally would, but for the evangelisationof our country and parish.
Ascension: the call to share our faith Jesus came up and spoke to them. He said, all authority in heaven and on earth has been given to me. Go, therefore, make disciples
of all the nations. Matthew 28: 18 – 19a
For all Christians to have the confidence to share the good news of Jesus Christ.
My dear people, let us love one another, since love comes from God, and everyone who loves is begotten by God and knows God. 1 John 4: 11 – 12
For all those who have lost sight of God, that they would see His love revealed in their lives.
If you trust in the Lord and do good, then you will live in the land and be secure. If you find your delight in the Lord, he will grant your heart's desire. Psalm 36: 3
For those who feel isolated and alone, that they will develop
meaningful relationships through a childlike trust in God.
Yes, God loved the world so much that he gave his only Son, so that everyone who believes in him may not be lost, but may have eternal life. John 3: 16
For those in need of God's mercy, that they will know the joy of his forgiveness.
Look, I am standing at the door, knocking. If one of you hears me calling and opens the door, I will come in. Revelation 3: 20a
For the hearts of those we know and love to be more open to
Christ who waits to be invited in.
Ask, and it will be given to you.
For all those who are beginning to show an interest in matters of faith, that their curiosity will grow into a desire for the living God.
Seek Search, and you will find. Matthew 7: 7b
For those who seek God, that their search may lead them to find their heart's desire.
Knock, and the door will be open to you.
For us all to encounter the person of Jesus Christ and experience life lived to the full.
When Christ freed us, he meant for us to remain free. Stand firm, therefore, and do not submit again to the yoke of slavery.
For those who are held down by past experiences, hurt or pain, that they may know the freedom that Christ brings when we follow him.
Only faith can guarantee the blessings that we hope for, or prove the existence of the realities that at present remain unseen. Hebrews 11: 1
For those who want to grow in faith, that we may all be filled with the hope of what is to come.
They were all filled with the Holy Spirit. Acts 2: 4
For the whole Church to be filled with the Holy Spirit 'as by a new Pentecost'.1 1 Pope John XXIII Prayer in preparation for the Second Vatican Council