A Message from the Rector
The Feast of the Holy Innocents.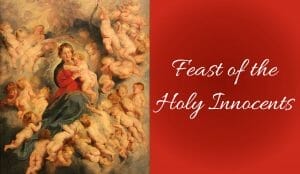 As we approach the end of what has been a very difficult year, and as we prepare ourselves for 2021, I take this opportunity to extend my sincere thanks to all parishioners and congregation members for their massive support to our Church and its worshipping life over these most testing months of Covid-19 lockdown.
I thank you all for your prayerful support of me as your parish priest through what has been a very tough time on a number of different levels, and I salute you all on your financial support of our Church over the last year.
I particularly want to express my deep gratitude to you all for your special prayers during my illness. It is now almost five weeks since I was first rushed into hospital with a serious infection in my
gallbladder and during that time I have been aware of your warmth, kindness, concern and prayers, plus the many cards, flowers and get well wishes I have received. Thank you!
Thank you also to Fr Michael Morris who so kindly stepped up to cover regular worship and provide thought provoking and witty sermons. A big thank you also to the Churchwardens – Mary and Clive who have done a sterling job on keeping the Church building ready and prepared for all worship over Advent and Christmas.
A special thank you to all those congregation members who have faithfully and regularly attended Sunday Mass week by week, and to our Music Director, Steve Ansell, and the faithful Choir members that have maintained an impressive level of music in our worship week by week, often making a very special personal effort to keep the show on the road. Thank you also to John Kemp and Paul Gorham who have served in the Sanctuary, keeping our liturgy both reverent and focused. All in all, thank you to all at Holy Trinity Church.