Breaking News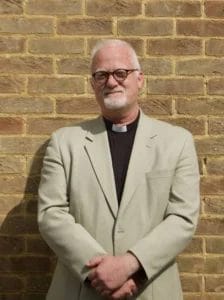 It was announced at Mass today that Fr Angus Beattie will be the new Rector of the Plurality of Holy Trinity, Ramsgate and St Andrew's Deal. He will be Instituted on November 7th.
Fr Angus was ordained to the diaconate in 2019 and to the priesthood in 2020. He has served his title in the Parish of St Mary, South Ruislip in the Diocese of London and under the pastoral care of the Bishop of Fulham.
Prior to life in holy orders, Fr Angus taught in secondary education for many years, as well as leading youth activities. He formerly served in the British Army and is a linguist, with expertise in Russian. He is married to Maxcine.
We are very grateful to Bishop Norman for finding Fr Angus, also to Fr Darren Miller, the Archdeacon of Ashford for his amazing help in moving this appointment forward before Fr Paul's retirement, thus sparing us a long vacancy. Thanks also to the Bishop of Dover for her support throughout the process of finding our new Rector.